Shopping Cart
Your Cart is Empty
There was an error with PayPal
Click here to try again
Thank you for your business!
You should be receiving an order confirmation from Paypal shortly.
Exit Shopping Cart
Some Availibility to book your fence posts before the Labour Day Weekend.  Give Master Post Hole Hamilton a call (905)337.7773 or text (519)861.4653.  We do require locates they can take up to 4-5 working days to complete and we take care of this process!  Give us a call!

Y
our post footings are the foundation of your deck so you better make sure you find the right company to install sono tubes/pier supports.  Your deck is only as strong as its foundation. 
Sono Tubes/Pier Supports are a round cardboard tubes that can be 8 to 60 inches wide.  The tube will be filled with poured concrete and attached is a bracket at the top of the footing.
You should check your local building codes in the Hamilton, Burlington, Oakville, Milton, Brantford, Simcoe and Kitchener area to make sure your deck plan will pass inspection.  Each area is different! 
Once your deck layout is in the ground Master Post Hole will dig in each location, we will measure and line the holes according to the plan.  We will drill 4 feet, set the tube and pour with concrete making sure all air pockets are taken out. 
Master Post Hole can ground level your sono tubes or pier supports or bring above grade.  We also install the brackets.
Each bracket is placed on each footing, so that it aligns with the required post hole placement.  The open side will face up, with the bracket aligned to the inside of the string.
We do sono tubes right the first time and we warranty our work always!  Any questions call us anytime Master Post Hole @ 905.337.7773 or Text 519.861.4653

Post Hole Season has started!  Spring is finally here!  Book early for your posts in the Hamilton and Burlington area.  Remember we supply the concrete and we have the home owner supply the posts!  Hamilton book early for your post hole projects.  We also specialize in sono tube installation!
Master Post Hole Hamilton
It has been such a long winter!!  Glad to see the snow gone!
Master Post Hole is gearing up for the 2015 Season.  We are booking up fast!  
Like always we take care of the Locates.  The clearances from bell, hydro, cable and gas.  We can't drill without Locates; its the law!!
Call for a quote or book an appointment.
We are fully insured company and we care about our clients.  
Enjoy the week!
Great Video on how to mark out your fence posts!!  
Have any questions or concerns feel free to contact Master Post Hole anytime!
People always ask what the markings indicate on the ground when Locator's come out to homeowners properties.  Always call your locates, even if you are drilling 1 or 2 holes make sure you take the time to call your locates.  Also Master Post Hole, will take care of your locates!  Always have the locates in the excavators' name always!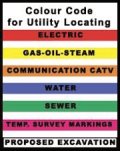 Locates are important, Master Post Hole can't drill without them!  We take care of the locates always!
Safety Starts with You!Obtaining locates are easy, free, and most importantly, the first step in safe excavation!Consider that in 2009, of all reported utility damages in Ontario, 70% of damages caused by Homeowners were a direct result of not obtaining locates. Failure to obtain locates leading to subsequent utility damages carry multiple fines, fees to repair damaged utilities, and more. However, the most important reason to get locates is to put safety first!
Please make sure you always call your locates, even if you are a country property you must obtain locates.  No cost to the Homeowner.  Master Post Hole will take care of the locates for you!  
Locates save you money!  Without them you can be fined! 
Try Master Post Hole!  We set a Perfect Post Hole each and every time! 
/