Shopping Cart
Your Cart is Empty
There was an error with PayPal
Click here to try again
Thank you for your business!
You should be receiving an order confirmation from Paypal shortly.
Exit Shopping Cart
Some Availibility to book your fence posts before the Labour Day Weekend.  Give Master Post Hole Hamilton a call (905)337.7773 or text (519)861.4653.  We do require locates they can take up to 4-5 working days to complete and we take care of this process!  Give us a call!
Post Hole Season has started!  Spring is finally here!  Book early for your posts in the Hamilton and Burlington area.  Remember we supply the concrete and we have the home owner supply the posts!  Hamilton book early for your post hole projects.  We also specialize in sono tube installation!
Master Post Hole Hamilton
Great Video on how to mark out your fence posts!!  
Have any questions or concerns feel free to contact Master Post Hole anytime!
Great Link if you are interested in installing vinyl fence posts!  We can set vinyl fence posts but you just need to make sure of the distance required for exact spacing.  Vinyl fencing is different from building a wooden fence yourself!  Vinyl fence posts require exact spacing.  All measurements need to be exact for your building.  Check out Home Depots Vinyl Fence page.
http://www.homedepot.ca/know-how/projects/installing-a-vinyl-fence
Remember a fence is only as good as the post.  Master Post, we will set a perfect post holes each and every time!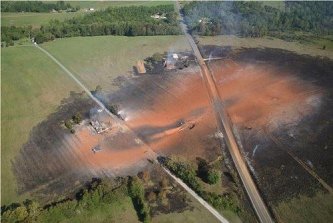 Locate underground utilities before diggingYou may or may not know about the law requiring you call for utility locating before you do any excavation. The pictures below are a result of a farmer using a post hole digger without calling for a "locate" and he hit an underground, high-pressure cross country gas pipe.The farmer was never found.  The gas explosion took out 2 homes.
What construction projects need building permits?A building permit is required for any new building greater than 10m (108 ft), any addition to an existing building, any material alterations to an existing building which effects: the structural design of the building; mechanical; electrical; plumbing services (no limit on size of building); fire separations; exiting; fire protection systems; and the use of buildings or parts thereof. Below you will find a list of typical 
residential
 and 
commercial/industrial/institutional
 projects that require a building permit:For  (single family, semi-detached and row housing), projects requiring a building permit include:
decks greater than 600mm (24 inches) above ground or serving the principal entrance for dwelling units
interior structural alterations
adding or removing most walls, (i.e., creating different room sizes and/or uses)
porches
basement or main floor walkout alterations
sunrooms
solariums
replacement of brick veneer
carports
attached or detached garages, sheds
replacement of masonry chimney below roofline
dormers or finishing of attic space
installation of irrigation systems
additions
installation, repair of storm, sanitary and water service
finishing a basement or a portion thereof
furnace and ductwork replacements
installation of cleanouts
conversion from septic to sanitary sewer
plumbing and/or drains (except replacing fixtures)
insulating exterior walls when exterior or interior cladding is removed
new or structural alterations to windows or doors
installation or repair of private sewer systems and water service
installation of backflow preventers for lawn irrigation systems
structural fire damage
For all other buildings, (), projects requiring a building permit include:
change of use (where construction is proposed or the change constitutes an increase in hazard)
interior renovations within a floor area affecting fire separations, exits or structural capacity
interior finishing of shell buildings for tenants (ie. occupancies in commercial or industrial malls and office buildings, etc.)
fire and water damage affecting interior renovations within a floor area affecting fire separations, exits or structural capacity
additions to any building having a combined area of 10m (108 sq. ft.) or more
installations and major alterations of sprinkler, standpipe, fire alarm or mechanical (HVAC) systems
plumbing installation and alterations, except replacement of fixtures
installation or replacement of storm and sanitary sewers, water service (ie. catch basins, weeping tile, clean-outs, change from septic system to sewers)
installation and repairs to sewage systems (septic systems and holding tanks)
installation of back flow preventers
retaining walls exceeding 1 metre (3 ft.- 3 inches) in exposed height adjacent to public property, to an access to a building, or on private property to which the public is admitted
tents greater than 60m? (645 sq. ft.)


People often ask about building permits for fence installation and deck installation.  Also we are not required to have a permit for fence post installation.  Some deck pier footings require a building inspector.  It all depends on you deck plan.  We are very familiar with building inspectors. 
Please read below.  Refer to your local city hall for more information!  
What projects do NOT require a building permit?A building permit is not required for a detached accessory structure (gazebo, tool shed, etc.) which measures less than 10m (108 square feet) in area. Below is a list of other projects that do not require a permit. Note: Although a building permit may not be required, you must still comply with the requirements of the Zoning By-law and Ontario Building Code requirements.
fences (other than for swimming pools)
decks not forming part of a principle entrance to a dwelling unit and less than 600mm (24 inches) above grade
asphalt roof shingling
eaves troughs
minor repairs to masonry
damp proofing basements
air conditioning units or heat pumps added to existing forced-air systems
kitchen or bathroom cupboards without plumbing
free-standing satellite dishes
replace existing forced-air furnace (no duct work alterations)
replacing siding or windows (provided there are no structural changes)
pool heaters
painting and decorating
landscaping
We use to be a Perfect Post Hole franchise in the Milton, Oakville, Burlington, Ancaster and Dundas area for many years.  Everyone left the franchise system and we decided to form our own company, Master Post Hole (digger)...  Same crew, but we have more freedom to move around to other areas.   You can find our crew drilling post holes in Milton to Hamilton or even Cambridge Ontario.
We stand by our warranty!  Our customer satisfaction is the most important part of who we are!   You pay when the job is complete!  We don't require you to pay upfront any fee's.   
Please be careful, many people are being scammed by fence companies in the Oakville and Milton area.   Many are claiming to be contractors and offering a great price for building fences but the truth is they are requiring a deposit and taking off with your money!  Check your company out!   Many fly by night companies out lurking around trying to take advantage of homeowners.  Don't be fooled.  Check them out on the web, check them out in the phone book.  Many of these guys make up random cell numbers every year!
Few years back a group of home owners close to 9th line, decided they wanted a fence. Nearly everyone on the st. gave a deposit.  The fella ended up with 30,000 in his pocket, made everything look good!  But, guess what he was nowhere to be found when people started to call his phone!....
Group of homeowners in the Milton area have been scammed as well!   
Just do your research before you start handing over money for you fence or deck projects.
We learned our lesson a few years back when we use to be Perfect Post Hole in Oakville, a guy asked us to drill and set approximately 90 6x6 post holes in Oakville, he ordered the lumber from one of our suppliers.  He paid for a 10% deposit for wood.  People gave the guy approximately 30% deposit and guess what we set the posts and the guy disappeared.
I believe this is why the Municipality of Hamilton is phoning contractors from post hole companies in Hamilton, Ontario to Handyman companies making sure they are legit.  They are asking for insurance information, phone information.  
Just be careful who you hire for any job.  Just because the price sounds good, don't make the work or job good.  
Buyer-beware!
/