Shopping Cart
Your Cart is Empty
There was an error with PayPal
Click here to try again
Thank you for your business!
You should be receiving an order confirmation from Paypal shortly.
Exit Shopping Cart
Some Availibility to book your fence posts before the Labour Day Weekend.  Give Master Post Hole Hamilton a call (905)337.7773 or text (519)861.4653.  We do require locates they can take up to 4-5 working days to complete and we take care of this process!  Give us a call!
Post Hole Season has started!  Spring is finally here!  Book early for your posts in the Hamilton and Burlington area.  Remember we supply the concrete and we have the home owner supply the posts!  Hamilton book early for your post hole projects.  We also specialize in sono tube installation!
Master Post Hole Hamilton
Great Video on how to mark out your fence posts!!  
Have any questions or concerns feel free to contact Master Post Hole anytime!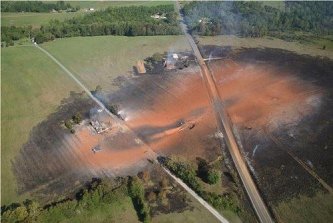 Locate underground utilities before diggingYou may or may not know about the law requiring you call for utility locating before you do any excavation. The pictures below are a result of a farmer using a post hole digger without calling for a "locate" and he hit an underground, high-pressure cross country gas pipe.The farmer was never found.  The gas explosion took out 2 homes.
People always ask what the markings indicate on the ground when Locator's come out to homeowners properties.  Always call your locates, even if you are drilling 1 or 2 holes make sure you take the time to call your locates.  Also Master Post Hole, will take care of your locates!  Always have the locates in the excavators' name always!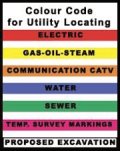 People often ask about building permits for fence installation and deck installation.  Also we are not required to have a permit for fence post installation.  Some deck pier footings require a building inspector.  It all depends on you deck plan.  We are very familiar with building inspectors. 
Please read below.  Refer to your local city hall for more information!  
What projects do NOT require a building permit?A building permit is not required for a detached accessory structure (gazebo, tool shed, etc.) which measures less than 10m (108 square feet) in area. Below is a list of other projects that do not require a permit. Note: Although a building permit may not be required, you must still comply with the requirements of the Zoning By-law and Ontario Building Code requirements.
fences (other than for swimming pools)
decks not forming part of a principle entrance to a dwelling unit and less than 600mm (24 inches) above grade
asphalt roof shingling
eaves troughs
minor repairs to masonry
damp proofing basements
air conditioning units or heat pumps added to existing forced-air systems
kitchen or bathroom cupboards without plumbing
free-standing satellite dishes
replace existing forced-air furnace (no duct work alterations)
replacing siding or windows (provided there are no structural changes)
pool heaters
painting and decorating
landscaping
You should always have the contractor call the locates in!   You don't want to take the responsibility of someone hitting a gas, hydro, cable or bell line. The contractor is responsible if they are drilling your holes on your property. 
Don't let them talk you into calling the locates in yourself.  No, the responsibility is the contractor who is drilling your holes.
They are able to ask for a priority and often locates can be obtained in 3 working days.  Sometimes during peak season it may take up to 5 working days.
You do not have to be home, the locators come and mark if you have any utilities in the area.  The will fax or send an e-mail to the contractor. 
/